Capital Campaign Book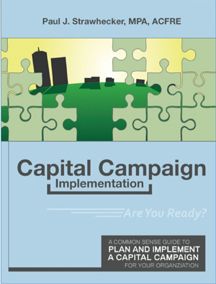 "Capital Campaign Implementation:  Are You Ready?," by Paul J. Strawhecker, MPA, ACFRE, is designed to introduce the concepts of successful capital campaigns to nonprofit organizations.  It is intended to be a helpful resource in planning and implementing your campaign, focusing especially on the preparedness issues so many organizations fail to address.
Please contact us if you're interested in purchasing the book.
Excerpts