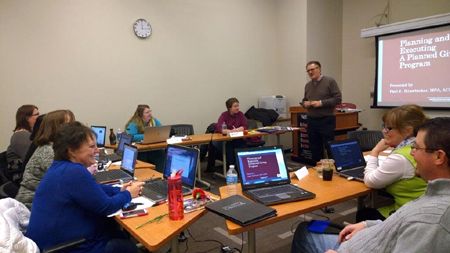 Are you currently planning a local, state, regional or national conference or workshop? Perhaps you would like to empower your staff, board or volunteers through development training on a particular topic?
Our speakers are members of the Paul J. Strawhecker, Inc. team of consultants who, in their collective careers, have guided more than 300 organizations to fundraising success. Our consultants are experts who can share their knowledge and expertise with you through presentations on the topics below.
If you see a presentation you are interested in, or would like to arrange for a custom presentation on another topic, please contact us.
Weathering the Storm: What Organizations Can Do Now to Build Capacity

Are You Ready for a Capital Campaign

Getting Noticed by the News

Are Bananas Really the Issue? What Planned Giving Can Do For Your Organization

National Trends in Campaign Fundraising

How to Make the Donor Call

Succession Planning: Transitioning your Organization for the Future

How to Market Your Planned Giving Program

Understanding Your Organization's Fundraising Capacities

Charting Your Fund Development Course: Mapping the Itinerary for Your Annual Fund

The Philanthropic Component

Beyond Direct Mail: Diversifying your Fundraising Program

Will Martha Make a Major Gift to You?

How to Write Direct Mail for Difficult Times

What's Black and White and Read All Over? A Case Statement, of Course!

10 Questions Every Church Should Ask Before Starting a Building Project

Philanthropy, the Healthcare CEO and Capital Funding