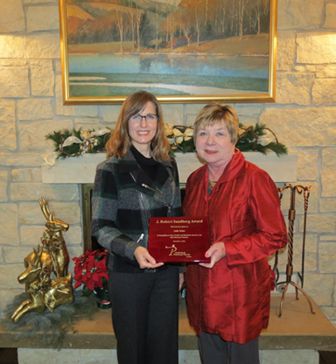 On December 2, Jodie Nolan received the 2016 J. Robert Sandberg Award for Distinguished Service from the Nebraska Partnership for Philanthropic Planning (NPPP), in recognition of her outstanding service, commitment and leadership in the field of planned giving. The award was given at the NPPP's annual celebration meeting at the Quarry Oaks Clubhouse in Ashland.
Nolan was nominated for the award by Melissa Filipi, Director of Philanthropy at Audubon Nebraska.
Congratulations, Jodie!
Melissa Filipi and Jodie Nolan pose for a picture after the award ceremony.