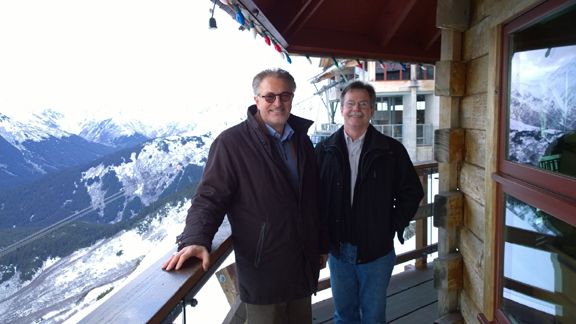 Alaska was the only state I had never visited. That changed when I received a call from Donn Bennice, President/CEO of Alaska Family Services, Inc. (AFS) in Palmer.
AFS was established in 1979, just 20 years after Alaska became a state. It started as the Valley Women's Resource Center, a domestic violence and sexual assault shelter to provide a safe haven for women and children. The agency soon began providing additional services, and eventually grew to become one of the largest nonprofit organizations in the Mat-Su Borough, offering more than 20 programs to strengthen and support families. It's a great agency with committed leadership.
Donn called because he wanted to create a fund to sustain the organization, to protect it from the systemic funding changes of government revenues and oil production, which is the way the majority of nonprofits in Alaska have been funded for decades.
Over the past several years, federal monies to Alaska have declined, which impacts the funding available for Alaska nonprofits. In addition, much of Alaska's economy is based on the petroleum industry. Oil drilling in Alaska has been decreasing in recent years, while state government expenses have increased. Consequently, efforts are underway to better balance the state's budget, which will also require decreasing the funds provided to nonprofit organizations. In addition, the Mat-Su Valley's population is increasing rapidly, creating a growing need for the services AFS provides.
AFS, and Alaska nonprofits in general, are facing some unique challenges. Moreover, the culture of philanthropy we are accustomed to is just beginning to emerge in our 49th state.
It's not that Alaskans aren't caring people. If there is a crisis – someone's house burns down, for example, they really rally to step in and help their neighbor. Alaska's organ donor rates are the highest in the nation. But the idea that individuals give money to support the work of nonprofits in their communities is by and large a foreign concept. As you might suspect, there are not many foundations either.
What AFS wants to do in establishing a sustainability fund has an extra level of difficulty. It's not just persuading someone to donate to this particular fund, it's convincing them to personally invest in their community through this fund as well. This is something that is understood in the lower 48, but not so much up north.
So, what is PJS doing? In many ways, AFS has a great case for fundraising. The organization is well-managed and has wonderful successes to share. The public is very aware of changes in oil revenues and government funding. In a sense, the organization is being forced to seek other funding solutions if they are to continue to serve the growing population in the Mat-Su Valley. PJS is meeting with potential donors to tell this story and ask for gifts – primarily planned gifts, to give people the opportunity to leave a legacy and take care of others in their community. We've also recruited a Sustainability Board of community leaders to spearhead the effort, open doors, tell the story and serve as cultivation event hosts. While these activities are pretty standard, they are exciting new territory for these volunteers. Progress is slow, but steady, and I am confident that the effort will be a success. It takes time to introduce new ideas and shift people's thinking about giving.
The experience of working with AFS in Alaska is one I will treasure. Besides providing groundbreaking consulting services for an outstanding social services agency and enjoying the natural beauty of the state, it has made me realize how we all benefit from the work that has occurred before us to establish a culture of philanthropy. All of us in the nonprofit sector must strive to protect this culture by doing good work and being good stewards of the gifts we receive.