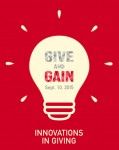 Paul Strawhecker, MPA, ACFRE and Jodie Nolan, CFRE, will present "Become a Better Planned Gift / Major Gift Negotiator" at the Give and Gain Conference September 10.
Negotiation skills are indispensable to the process of securing major gifts. The presentation reviews some of the most recent developments in academic research relating to negotiation, and demonstrate how fundraisers can take advantage of these findings in their communication with prospective donors. Attendees will be asked to share their own experiences to develop specific strategies to enhance their solicitation skills based on the research.
Offered by the Association of Fundraising Professionals and the Nebraska Partnership for Philanthropic Planning, Give and Gain is a one-day conference with a special focus on planned giving and major gifts. The 2015 event will be held in Lincoln at the Nebraska Innovation Campus Conference Center, 2021 Transformation Drive. For more information or to register, please visit http://afpnebraska.org/.