Rebuilding Bayliss Park Brings Community Together in Council Bluffs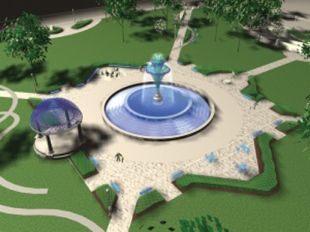 The Council Bluffs community -- including businesses, foundations, government, civic organizations, news media and citizens old and young -- worked together to raise $4.8 million in 2005 to rebuild its town center -- Bayliss Park.
The six-month campaign -- which raised more than $1.15 million alone from individuals within the community -- included fundraisers throughout the city, some in the park itself; matching grants from the state of Iowa; substantial financial assistance from the Iowa West Foundation, and hundreds of donations of all amounts from members of the community.
The Daily Nonpareil, the city's daily newspaper, was instrumental toward the success of the project, signing on from the start to get the word out -- and sustain it -- within the community for the length of the campaign.
"The generosity and spirit of this great city never cease to amaze me," said Mayor Tom Hanafan. "This will be one of the most dramatic community betterment programs in the city's history. The record of giving, in such a short time frame, by corporations, businesses, foundations and individual donors, has been extraordinary."
Ronald Hopp, director of the Council Bluffs Parks and Recreation Department, spearheaded the campaign, and was thrilled with its results -- especially those delivered by the Paul J. Strawhecker, Inc. team, which directed the fundraising and public and community relations aspects of the campaign.
"I really don't know that we could have done this without the guidance of Paul J. Strawhecker, Inc.," Hopp said. "The work that they did in getting the support and assistance of the city newspaper and community, as well as helping us identify and reach those donors of influence and affluance was pivotal in making this campaign a success."