Guthrie County Hospital Employees Raise over $100K toward Capital Campaign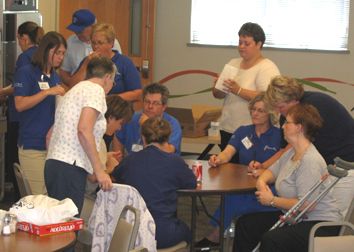 In Iowa in July, topping 100 degrees is not hard to do. In fundraising, reaching 100% participation is nearly impossible. The Guthrie County Hospital Foundation in Guthrie Center, Iowa, realized this amazing feat with its recent employee giving campaign.
"We had an amazing committee this year," said Jodi Sutton, Guthrie County Hospital Foundation Director. "After it was decided the monies raised would go toward the new emergency room, pharmacy, remodeled patient rooms, and lobby the committee had a goal and they were committed to achieving it!"
The 114 full-time employees gave a total of $100,278 in a combination of three to five year pledges, and one-time gifts.
Planning for the annual employee giving campaign, held July 10-14, began in April. At that time, the employee giving campaign committee set a daunting goal: 100% participation. With this goal in mind, the group developed a week full of activities revolving around the number "100."
Hospital employees raced one another in a 100 yard crutch race or around a 100 yard wheelchair obstacle course. Other activities included playing the board game Operation and putting together a plastic skeleton. 100 Grand candy bars were given to the winners.
"It was definitely a lot of fun to be involved in," said Diane Duzenbury, an employee campaign committee member. "I was excited to be a part of it."
Hospital employees also had an opportunity to earn a blue polo shirt embroidered with the campaign logo by pledging a minimum of $2 per pay period over a five year period. Employees were excited about earning the polo shirts, Duzenbury said.
This year's employee campaign dedicated itself to raising funds for "The Future is Now: A Campaign for Guthrie County Hospital." This campaign focuses on the expansion and renovation of the emergency room, pharmacy, radiology, and patient rooms.
"I think it (the campaign) is one other way I can contribute to quality patient care," said respiratory therapist Kathy Semke. "The campaign ensures that quality healthcare remains in Guthrie County."
The week's events culminated with a visit from Chris Cakes on Friday. Pancakes were made available to all hungry employees.
Employee campaign committee members included Loreen Andreasen, Diane Duzenbury, Jan Erickson, Cindy Miller, LouAnn Peterson, Nicole Saegh, Kathy Semke, Tawny Stetzel and Jodi Sutton.
Paul J. Strawhecker, Inc. is proud to be involved with the Guthrie County Hospital Foundation and its employee commitment to this campaign.