$26 Million Raised for Boys and Girls Clubs of Metropolitan Phoenix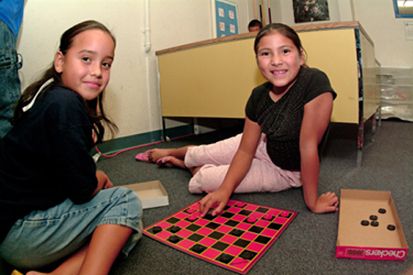 The mission of Boys & Girls Clubs across the country is to inspire and enable youth to realize their individual potential while learning responsible citizenship.
For the Boys & Girls Clubs of Metropolitan Phoenix (BGCMP), the mission is focused on helping those children most in need. Many of the BGCMP children live in situations that seem hopeless: extreme poverty, family backgrounds that involve drugs and alcohol abuse, and a lack of care and services that many of us take for granted – like a toothbrush, or a parent who can help with homework, or clothes to wear to school.
With a unprecedented population boom, increasing poverty and only 10 clubhouses throughout the Phoenix metropolitan area (population 4 million), the need for expansion was strong. In the fall of 2003, the BGMCP board of directors undertook a major step toward rising above this reality. The solution was a $26 million multi-faceted campaign titled Kids, Clubs, Opportunities.
The campaign included several primary objectives: taking care of the existing clubs by adding much-needed staff and equipment and renovations; building new clubhouses in pre-identified neighborhoods greatly in need; and doubling the endowment fund to provide for the future and sustainability of the Clubs.
Because of the depth of this campaign, the preliminary steps before launching the campaign included conducting a high-level philanthropic planning study, a situation analysis, focus groups and an internal assessment. When combined, the end result was a comprehensive, step-by-step campaign plan that guided the board, staff and volunteers through a two-year campaign.
Guided by the leadership of Campaign Chair Edward J. Robson, each facet of the campaign was led by a remarkable and dedicated group of volunteers, including some of the most recognizable and influential individuals in business, sports and philanthropy in the Valley.
In the early stages of the campaign, many vocalized their disbelief that the endowment goal of $10 million could or would be reached. Very happily, Paul J. Strawhecker, Inc. announced in late 2005 that not only had the goal been met, but surpassed it – and the figures continue to grow!
To date, over 65 percent of the $26 million goal has been met. This summer, children in the neighborhoods where the new clubhouses are being built will see the first markings of their new homes away from home.
In a community where a $26 million campaign was one of the largest social services campaigns in history, this was truly a campaign of firsts. Kids, Clubs, Opportunities, aside from the dollars raised during this campaign, took a small step toward bridging the gap between the disparity and diversity in Phoenix.
This was a campaign guided by one simple mission: to make in investment in the neighborhoods, families and future of the Phoenix community. To that and all of the campaign goals ends, the Kids, Clubs, Opportunities campaign was a true success!